Estamp celebrates e-Day encouraging tools for an optimal change management
Under the topic "Tools for optimal change management", this year we have focused our celebration on SDG 3: Good health and well-being. In each of our plants, we have organized various activities, such as escape rooms, inspirational talks by experts like Jordi Roche and Jaroslava Vaculčiakova, team building games and much more.
In addition, we have enjoyed our participants with delicious snacks and meals. During this day of celebration, we encouraged a cheerful atmosphere and companionship, promoting team spirit and well-being in our work environment. We also wanted to thank all participants with special details and gifts.
We thank everyone for their enthusiasm and active participation in this special day. Let's keep working together to achieve our goals and promote a healthy and motivating work environment at Estamp.
Click here to view our video on LinkedIn.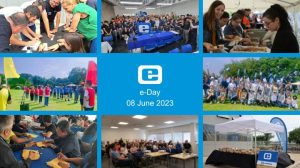 HAPPY ESTAMP DAY 2023!