ESTAMP COLLABORATES WITH THE GENERATION OF HYDROGEN
As part of our commitment to sustainable development, clean mobility and our commitment to this energy vector; we are proud to announce that we participate in the GreenH2Pipes project , led by Enagas, which pursues the development of innovative components for the generation of Hydrogen by electrolysis, the optimization of its storage and injection into the natural gas network and its transport from carrier liquids. It is a program financed by the EU, Science and Innovation Missions, which is part of the Recovery Plan.
The mission of this project is to promote safe, efficient and clean energy for the 21st century, also aligned with the objectives established in the Strategic Framework for Energy and Climate with which it is intended to reduce global warming limiting the increase in temperature below 1.5ºC, for which it is necessary to drastically reduce emissions of polluting gases. Green hydrogen has been identified in this context as one of the fundamental pillars to achieve these goals. Our role is based on collaborating with the development and production of innovative Bipolar Plates* by metal stamping, for PEMWE (Proton Exchange Membrane Water Electrolyzer) type Electrolyzers, in the generation of green hydrogen that can be used in mobility, among many other applications, as fuel for hydrogen cell vehicles.
The overall objective of the GreenH2Pipes project is research into new materials and manufacturing processes focused on the generation, storage, and transportation of hydrogen in a competitive manner. For this, it will be highlighted:
• Research into new materials and manufacturing processes for the development of innovative components that allow the manufacture of a new generation of PEM electrolysers, based on national technology, reducing technology costs (CAPEX €1,500/kW), maintaining efficiency (55 kWh/kg) and durability.
• The optimization of the injection of the green hydrogen generated in the natural gas network that allows optimal integration between the electricity network and the natural gas network, contributing to the goals of decarbonising the natural gas network.
• Research into new catalyst materials for the storage of H2, in the form of organic liquids, which reduce the energy of loading and unloading and increase the useful life of the systems in order to achieve the technical-economic feasibility of these storage systems.
Hydrogen is a key element in the transition towards clean energies. Why is it so important? In the coming decades, renewable Hydrogen will be a key energy vector to decarbonize the world economy, thanks to its multiple uses in different sectors. It has applications in the industrial, electrical, home and mobility fields.
For more detailed information click here to read the official press release.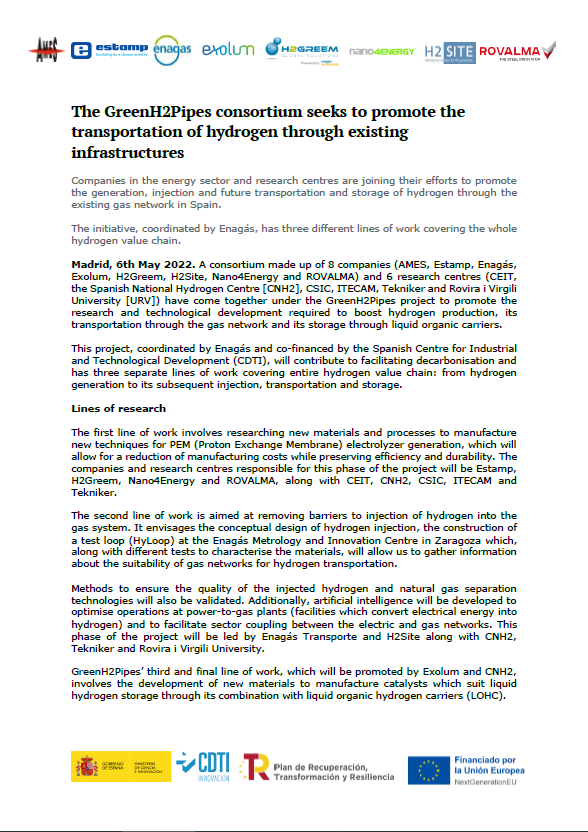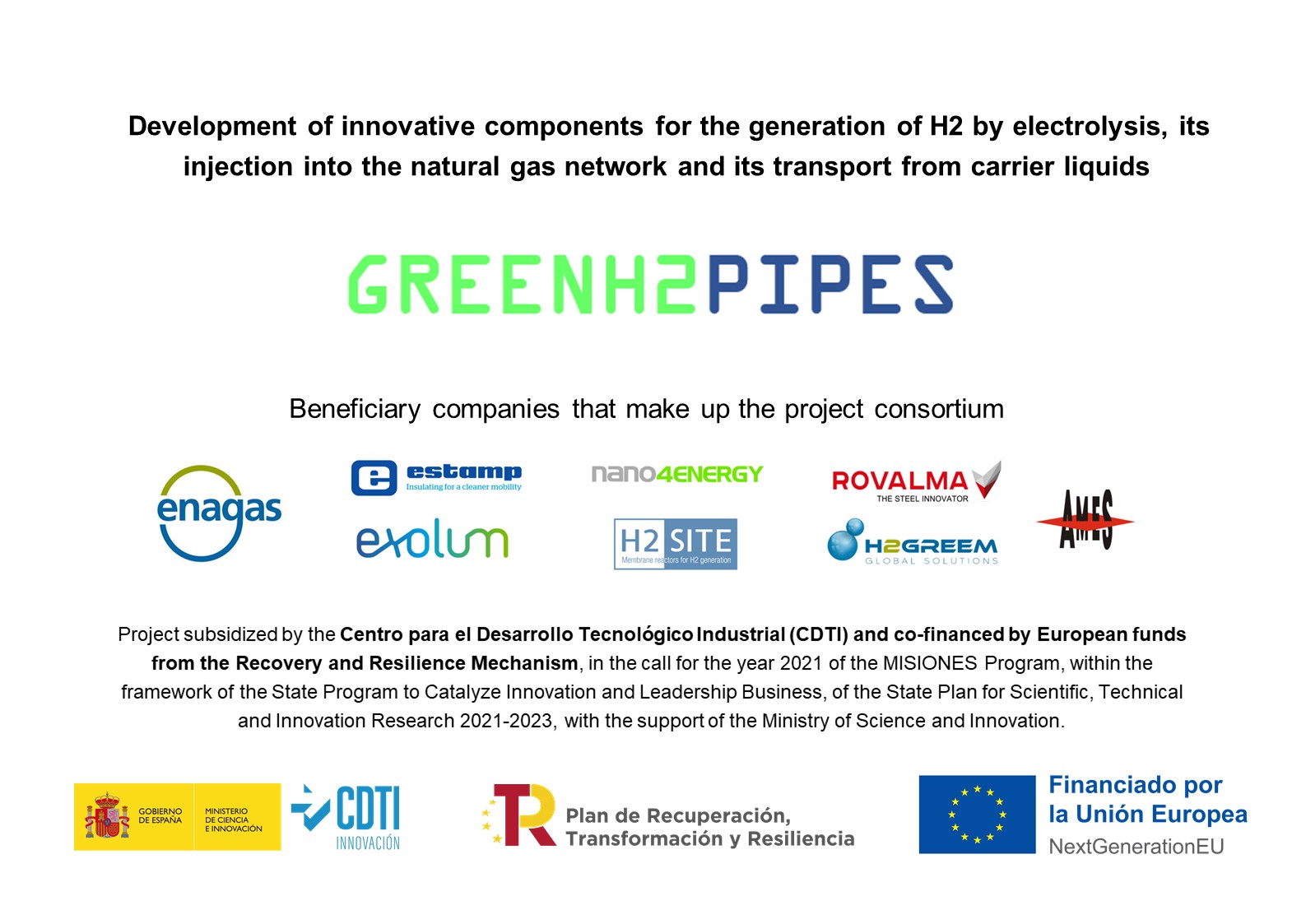 *Bipolar plates: they are key mechanical elements in the generation of electricity in fuel cell vehicles (FCEV), which can play an important role in certain market niches in the new clean mobility and in the generation of hydrogen.