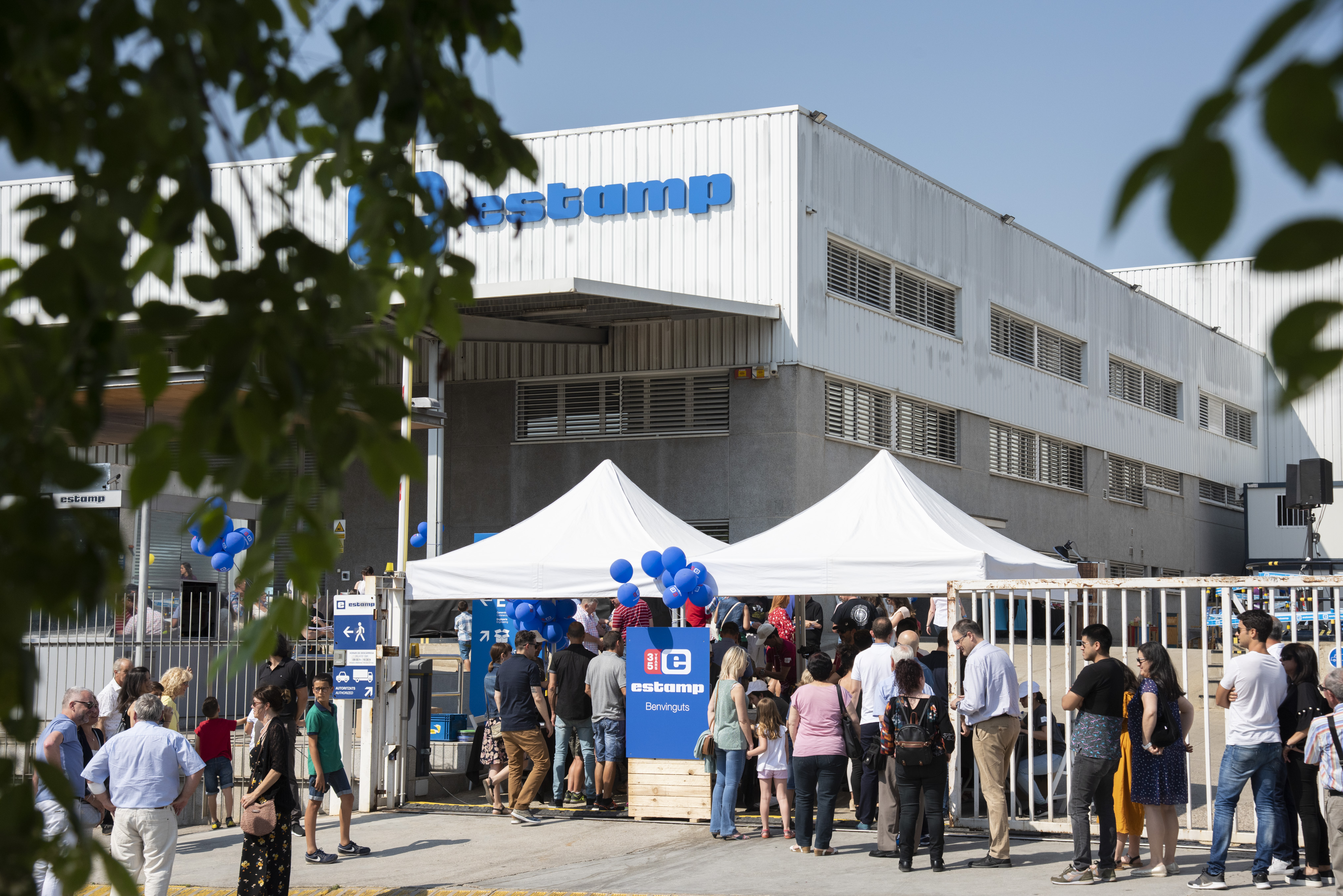 On Saturday 15 June, Estamp Terrassa celebrated its 35th anniversary by holding an open day at its facilities with its entire team and their families
Estamp, an international company based in Terrassa, celebrated 35 years of existence in June together with the entire group.
Estamp was founded in 1984 by Antoni Amat from Terrassa who, following a lengthy career in metal stamping in the automobile industry, opened a small factory. The company has grown considerably and now has a major International presence in the main automotive industry markets in the EU, Asia and North America.
The number of Estamp employees has more than doubled since 2014, and despite the major challenge of growing from 350 to 700, the company is proud to observe the cohesion, competence and maturity of the team, which has played a major role in consolidating the valuable global company.
The opening of new commercial and product development offices closer to the locations where customers make decisions has caused both rapid and solid growth in sales on a global level. Most car makers now use products developed and produced by Estamp.
Coinciding with the growth in sales, the company has achieved new heights of organisational excellence, with substantial improvements in all areas. Estamp has also made major investments in all its production plants, with considerable expansion in Slovakia and China, as well as the opening of a new factory in Mexico, carried out in record time.
Lastly, and as a result of the company's clearly strategic approach, Estamp has also started its path towards a more sustainable mobility, by developing both thermal insulation that contributes to the reduction of contaminants emitted by internal combustion engines and electromagnetic shielding for electric vehicle batteries. Estamp works to develop it role in all new vehicle propulsion technologies that enable cleaner mobility.
The celebrations in Terrassa to commemorate the 35th anniversary of the founding of the company kicked off with a tour of the offices and the factory, along with activities for the youngest members of the Estamp family and a snack for everyone. Members of management then reminded those gathered of some of the most important milestones in Estamp's long history and also the challenging future that the automotive sector faces. They also thanked the entire Estamp team for the work they do every day and the work they will continue to do in order to ensure that Estamp continues to grow.
The event ended with a performance by the Minyons de Terrassa that fomented the values held dear by Estamp: commitment and passion, optimism in the face of challenges, team spirit, proactiveness, agility and flexibility, and above all, personal integrity and respect. These are foundational values that the team not only works to maintain but to continue reinforcing as they are the key to the company's success.